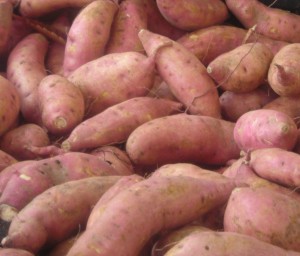 It's been cold!! This week, I asked Joanie  – one of my instructors and resident health coach – to give me one of her favorite healing winter recipes to help us get through the season. Not only has Joanie's clients seen amazing results, but her food is also incredibly tasty.  Try this recipe, and you'll be a happy camper!
~Mahri
*********************
Warming Sweet Potato and Maple Lentils
The winter months are known for bringing on colds, coughs, sneezes and sniffles. That makes it more important than ever to eat healthy, mineral-rich foods to keep your energy up and your immune system strong. This simple recipe is flavorful, packed full of nutrition and warms you up from the inside out.
Ingredients
2 cups dry lentils
1 medium, red onion, diced
3 garlic cloves, minced
1 sweet apple, peeled and diced
1 medium sweet potato, peeled and diced small
14-oz can diced tomatoes (with juice)
2.5 tbsp pure maple syrup
2 tbsp honey
2 tsp regular mustard
1 ½ tbsp apple cider vinegar
sea salt and ground pepper, to taste
1. Preheat oven to 375F.
2. Rinse and drain lentils. In a large oven-safe pot bring lentils and 4 cups of water to a boil. Reduce heat to low-medium and simmer for about 30 minutes, uncovered, stirring often. Cook until lentils are tender and a majority of the water is absorbed.
2. Add onion, garlic, apple, sweet potato, tomatoes, maple syrup, honey, mustard, salt, and pepper to the pot with the lentils. Stir well to combine. Add apple cider vinegar.
3. Cover and bake at 375F for 20-25 minutes. Remove from oven, stir, and bake for additional 8-12 minutes, uncovered, until the sweet potatoes are tender. Season with salt and pepper to taste
4. Serve over toasted multi-grain bread, whole wheat pita or on a salad of dark, leafy greens.
Makes 4-6 Servings
For more recipes or information about Motivated Nutrition's 6-month coaching program, visit www.motivatednutrition.net
https://bodyconceptions.com/wp-content/uploads/sweetpotato.jpg
1580
1845
bodyconceptions
http://bodyconceptions.com/wp-content/uploads/bodyconception-logo.png
bodyconceptions
2014-01-19 19:19:47
2014-01-26 01:13:25
Sweet Potato and Lentils:
Warming and Healing in Winter