It's hard for me to believe that the #FocusedforFall challenge has ended already. It feels like we were planning our partnerships and signing people up to begin just yesterday!!
This was an especially interesting challenge for me personally. I started traveling back and forth to Colorado to expand the business and began relying on my team to run the challenge more than ever before. I was hearing good things but did not realize the true extent of the commitment and excellence of everyone involved until I started checking in on challengers and looking at their progress. I was seeing bigger changes than ever before in challenge history! And the enthusiasm of the challengers was off the charts!!!
I owe so much to our instructors who took so much interest in each and every one of our challengers and helped so many of them reach — and far exceed – their personal goals. It is a testament to their amazing teaching and communication skills, and I thank them deeply. I am also incredibly proud of Roxanne, Sarah, and Katie for the amazing work and dedication they put into the challenge. Their results were so inspiring, and we are so happy to introduce each of them to you here. Thank you also to Kathleen O'Neill for coordinating these interviews.
Enjoy, and Happy Thanksgiving!!
~Mahri
**************************************
Challenge Winner: Roxanne
Tell us about yourself!
I'm 29 years old, and I was born and raised in New York. I lived in Philadelphia for a few years during my college years, while I studied Political Science and Art History, but eventually came back to my roots. I love New York more than words can ever describe. I still wake up everyday thinking how fortunate I am to live here. I think most people would say I'm pretty optimistic and keep an upbeat attitude. My motto in life is to live passionately and deeply.
Describe your career and how you originally got into the industry!
I'm currently a Recruitment and Selection Coordinator at a charter school in Long Island City. Before I got into this role, I had been working in education for several years and did my graduate work in Public Administration and Policy. I began to help with hiring a bit at the school, and when a full-time position opened up that would allow me to handle recruitment and selection for the school full-time I jumped at the opportunity. I love what I do and feel so lucky that I get to work in such a rewarding field. On a daily basis I get to meet really interesting people that are passionate and excited about their work.
How did you find out about Body Conceptions' challenge?
My amazing nutritionist, Priya Lawrence, had been raving about the classes. She suggested that I take on the challenge. At first I was super nervous (by nature I'm not a competitive person at all) but fell in love with the BoCo community and the incredible instructors. I knew that the challenge would be a great opportunity for me to push myself in a way that I hadn't done before. I remember feeling like a complete failure during my first class with BoCo with Julia, because we had been working on parts of the body that I hadn't work on before, but she made me feel so great about everything after and really encouraged and helped me throughout the challenge.
What kept you motivated throughout the 4 weeks?
The pure feeling of excitement and joy. I loved going to class knowing that I was part of an incredible group of women really dedicated to their health and happiness. I would set small goals and milestones for myself, and achieving them was a feeling like no other.
How did it feel when you found out you won?
I felt like I had won the lottery! It was the craziest thing and totally unexpected. There were tears (of joy of course!). I'm definitely not used to winning things, so it was a complete shock.
What are you going to do now that the challenge is over?
I want to continue going to class several times a week, and make sure that even though the challenge is done I'm still dedicating that time each week to my health and well being.
What do you do for fun when you're not working or working out?
My friends make fun of me that I'm a tourist in my own city. I'm a huge art geek and love checking out the latest exhibitions around the city One of my favorite pastimes is also trying out new bars and restaurants. I also love to travel whenever I can get a chance to escape.
What's your favorite BoCo exercise?
I love the dance portions of the workout. Any chance to let loose and blow off steam is like music to my ears.
How does BoCo compare to other workouts you've tried? What makes it special?
I get bored easily in classes, but BoCo has this wonderful way of really engaging me and keeping me excited. I think that what makes it special is that no two workouts will ever feel the same, and there is such a variety of exercises in each class.
What advice do you have for future challengers to succeed?
I really believe that the sky is the limit, and if you really put your mind to something it's really truly possible. Believing in yourself is so important. Keep at it, even if there are more difficult weeks. It all pays off.
First Runner-Up: Sarah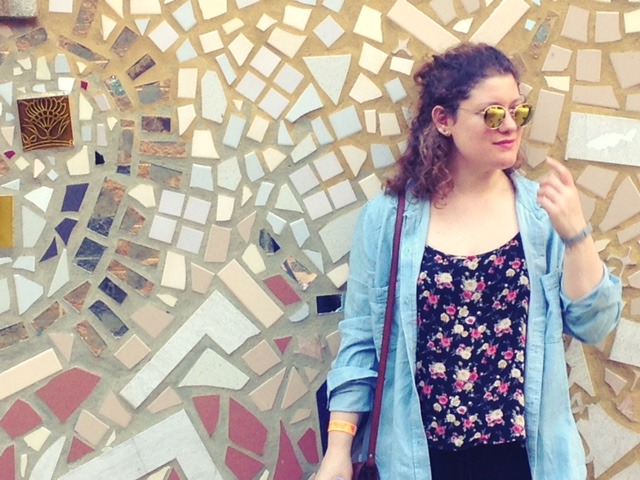 How was the Body Conceptions challenge meaningful to you at this time in your life?
I truly don't think there's enough room here to accurately articulate how meaningful this challenge has been for me. For me personally, this year has been an education on how to take control over my health, but also on how to let go of the harsh internal voice that has been responsible for my self-deprecation for so long. Body Conceptions stepped in at the perfect time, when I needed the positivity and encouragement the most. The challenge was an amazing way to push myself physically, but it did so much more for me mentally than I could have realized. Knowing that I could come to place where people were welcoming and excited to see me after a horrible day at the office or a stressful week was so good for me emotionally. I'm at an interesting time in my life where I feel like many things are a bit out of my control (aka I'm almost 30), so it meant the world to come to a positive place for an hour and focus on something that I knew would make me happy. The teachers and the students were both so important to the success of this challenge and it says a great deal about Body Conceptions as a whole that this place constantly attracts the most amazing people. I'm a BoCo-er for life.
Second Runner-Up: Katie
How was the Body Conceptions challenge meaningful to you at this time in your life?
I just moved to New York City a few months ago and have found the transition to be both incredible and difficult. Finding my personal rhythm is taking me some time–from jobs to workouts to where to go for brunch. It all takes time, I know this–logically.
But emotionally, I can often feel frustrated with myself for not being perfect right away, I get discouraged when a process takes a long time and those negative feelings make me feel lonely and isolated.
All of that being said I did the BOCO challenge because I was ready to let go of the negative feelings and connect to myself in a new way. That way of connection to self was to connect to something larger. For me that was Dance. Dance has always been a part of my life but as I got older it slipped away from me without me realizing it. My first BOCO class was a lightbulb moment. I remember how much fun I have when I dance. I felt renewed leaving class sweaty and sore. I connected.
On top of all of this the instructors create not only a safe space that is all about being strong and alive but also a place that is full of joy.
And that is what really has made this journey so meaningful to me. I find joy when I go to class that stretches throughout my life. Like shining a flashlight on a dark corner, BOCO inspired me to live my life with more joy and always find time every day to dance.
https://bodyconceptions.com/wp-content/uploads/Roxanne3.jpg
944
578
bodyconceptions
http://bodyconceptions.com/wp-content/uploads/bodyconception-logo.png
bodyconceptions
2016-11-22 17:26:26
2018-04-16 01:11:00
You have to meet Our #FocusedForFall Challenge Winner and Close Runner Ups!