Jenné Claiborne is one of those people you can't help but admire and want to befriend at the same time.  I met her at a health and wellness event at Barefoot Tiger last year and felt like her positivity and enthusiasm were incredibly contagious.  She also made some of the most delicious vegan food I had tasted in a long time!
As spring finally comes (thank goodness!), we start thinking about venturing outdoors, wearing our long-awaited spring clothes, and making delicious salads.  Jenné has offered a great salad recipe here – and I also recommend checking out her personal chef service and her vegan food blog at www.thenourishingvegan.com and www.sweetpotatosoul.com.
~Mahri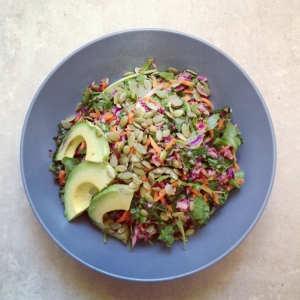 Springtime Salad by Jenné Claiborne
Since the beginning of the year, I have been looking forward to craving salads again. To feel warm and cozy during the cold winter, I filled my plate with roasted vegetables, cooked greens, lots of legumes, and plenty of hot drinks.
Now it's officially Spring, and my body is asking for a salad. Not just any old salad, but one that is full of different non-starchy vegetables, healthy fat, a good amount of zest, and lots of color. I call this a "Daily Salad" because I could easily eat it everyday. When I grow tired of one component of the salad or need more bulk, it's easy to substitute or make an addition. Some of my favorite additions are lentils, beans, strawberries, cilantro, mint, basil and sunflower seeds. Have fun with this salad, and make it your own!
Jenné's Daily (Springtime!) Salad 
(Use a food processor with a shred blade to shred the carrots and cabbage. It makes your life easy, and cuts the time it takes to make the salad.)
serves 1-2
6-8 leaves of kale, torn off stem

4 cups of arugula

1/4 head of red cabbage, shredded

3 carrots, shredded

1/2 cup pumpkin seeds

1 ripe avocado, cubed or sliced

pinch of sea salt

juice of 1 lemon (or 1/2 lemon more to taste)
Place the clean kale into a mixing bowl. Into the kale add the juice of 1/2 a lemon, a pinch of sea salt and 1/2 of the avocado. Using your clean hands, massage the toppings into the kale for a minute or so, until the kale has shrunken in size and become tender. Rinse your hands, then add in the arugula, shredded veggies and remaining lemon juice. Toss it all together, using your hands then serve topped with more avocado, pumpkin seeds and a pinch more of sea salt.
*********************
Jenné helps people adopt and maintain a healthy, delicious and sustainable plant-based diet so they can improve their energy, lose weight and feel their very best. She is the founder of The Nourishing Vegan, a New York based personal chef service. She is also the creator of Sweet Potato Soul, a vegan food blog that features recipes, tips and super fun cooking videos. In late-summer 2013 Jenné launched the 21-Day Vegan Blueprint–an interactive online program that takes the guess work out of becoming vegan and guides members to become vibrant, nourished and glowing herbivores. She is a regular contributor to the Vegetarian Times blog. Follow Jenné on Facebook,Twitter, and Instagram @sweetpotatosoul.
https://bodyconceptions.com/wp-content/uploads/Jennesalad.jpg
2448
2448
bodyconceptions
http://bodyconceptions.com/wp-content/uploads/bodyconception-logo.png
bodyconceptions
2014-03-23 17:28:36
2014-03-23 21:22:55
Jenné's Springtime Salad