I am so happy to have such great people working for me. Lauren is such a creative and dedicated trainer. If you can, try one of her fantastic classes this month at Stepping Out Studios. You'll have a blast!
~Mahri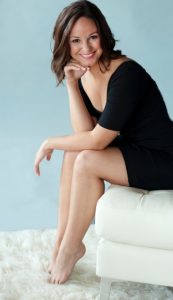 Full Name: Lauren Rodriguez Johnson
Where were you born? Naples, Florida
Where did you grow up?I spent half of my childhood in Naples and the rest in Charlotte, North Carolina.
What's your biggest passion?  Dance, and pretty much anything that keeps me moving and lets me be a little bit of a ham
Tell me about your career. Have you changed direction? If so, why?  For me, fitness and performing have always gone hand in hand. I have always considered fitness to be a big part of my dance career because it keeps me active and feeling and looking great. Now I'm taking advantage of my knowledge and experience to help others find a way to a higher well being and better self image.
What do you wish you knew when you were younger? That you can't please everyone. I am still guilty of this from time to time, but I have learned that there comes a point that you need to be able to say "no" and put your own well being first.
What's your fitness style? I am pretty disciplined and driven. I have always been self-motivated and goal oriented. That being said the free spirit in me has to love what I'm doing. If I don't get enjoyment from it, I can't stick to it.
What's the best piece of health/wellness/dance advice you've ever gotten? To be a "smart" dancer. So many times in the dance world we push ourselves so hard to reach perfection that we don't take the time to consider what it could do to our bodies in the long run. I have always known that I wanted dance to be a part of my life forever, so I strive to keep myself as educated as possible in the realm of anatomy and sports medicine because I truly believe that if you take care of your body, it will take care of you.
What's something most people don't know about you (that's maybe a little funny or weird)? I fall asleep to I Love Lucy every night, and according to my husband, will often times sing along with the musical numbers in my sleep
What's your guiltiest pleasure? Twizzlers, I can eat an entire bag at a time!
What quality do you really cherish about yourself? My wholeheartedness. Whether I'm teaching a class, performing or spending time with family and friends I try to put my whole heart into it and do everything with gusto. For me everyday is an opportunity to live life with unreserved enthusiasm.
Anything else about you that I missed? I am happily married to a wonderful guy who is a talented musician. We have a 13 year old dog named Humphrey who is the light of our lives. The "doing all things with gusto" sometimes backfires and makes me a bit of a klutz. I am half Cuban and half Italian. And I am convinced that I have the best family and friends a person could ask for and am extremely grateful to be surrounded by such wonderful people every day!
https://bodyconceptions.com/wp-content/uploads/VMD_2400edit.jpeg
640
370
bodyconceptions
http://bodyconceptions.com/wp-content/uploads/bodyconception-logo.png
bodyconceptions
2014-01-05 17:14:13
2014-01-26 01:06:10
Meet Trainer Extraordinaire:
Lauren Rodriguez