It was a sunny Fall afternoon when the Body Conceptions team gathered together in Queens for their annual photo shoot. Veterans and newbies alike were dolled up and looking fierce as ever with winged eyeliner, loose waves, and abs of steel. Matthew Simpkins' home photography studio was alive with excitement and nerves while chic athletic apparel by Saucony, Sweaty Betty, Lolë, and Michi scattered the sectional couch.
The instructors tried on the clothing, looking more fabulous in every consecutive piece. Despite this, the inevitable "I'm so bloated today" and "I'm so pale" comments came out of just about everyone's mouths. But each statement was followed by a fellow instructor's reaffirmation of "Stop it, you're ripped!" and "You're rocking the porcelain look!" The level of support amongst the team was refreshing to see and was so representative of the Body Conceptions vibe.
The day began with solo shots of Mahri, the Founder of Body Conceptions. Her Public Relations sidekick, Ashley, fixed her hair and ensured all her clothing labels were visible as Matthew pressed the shutter at each perfect moment. Bright white lights illuminated Mahri's defined triceps as she posed like a pro in front of a deep blue backdrop. Pop music vibrated throughout the room, creating a fun, energetic vibe. When "What Do You Mean" by Justin Bieber came on, half of the group shrieked with delight while the other half jokingly rolled their eyes. Matthew quickly changed the song, causing laughter to fill the space. Their occasional differences in music taste didn't prevent the BoCo tribe from achieving a successful photo shoot, however.
The next scene was in a cobblestone alleyway around the corner from the apartment. Nicole, Melody, Allie, Lauren and Mahri lined up, wearing sexy black unitards by Lolë. The spaghetti straps and sheer double stripe detail created the perfect "Workout Barbie" look. From a lineup of planks to staggered lunges, the girls looked fabulous in every formation they created. Passerby's couldn't help but stop and ask what the commotion was, and the BoCo team soon developed a bit of an audience!
After a quick wardrobe change, the entire crew headed to an underpass, chatting and giggling along the way. It was soon realized that rush hour was probably not the best time to have a photo shoot in the street, but the team persevered nonetheless. (Hey, the show must go on, am I right?)  Don't worry, all the fitness gurus returned home safe and sound! :)
Every time the traffic stopped, the group ran into position, like seasoned professionals. They donned bold patterned leggings by Sweaty Betty paired with bright colored sports bras and grey and black hoodies. Naturally, drivers honked their horns in admiration as they rolled by, but the instructors didn't let it distract them for a minute.
The girls started with badass posed photos, followed by intense action shots. Mahri led the group through some classic BoCo exercises, their hair whipping back and forth in unison. Then it was time for the group jump shot, and Mahri counted them in: "Five, six, prepare seven, jump eight!" After each attempt, the girls crowded around Matthew's camera to see if they nailed it, and after a few quick tries, they did!
Next, everyone took turns defying gravity for solo jump photos. Matthew utilized his experience dancing in West-Side story (where he and Mahri met) to provide unique ideas– and even demonstrated quite impressively! Each dancer's jump choice did a great job expressing their individual style and fitness technique.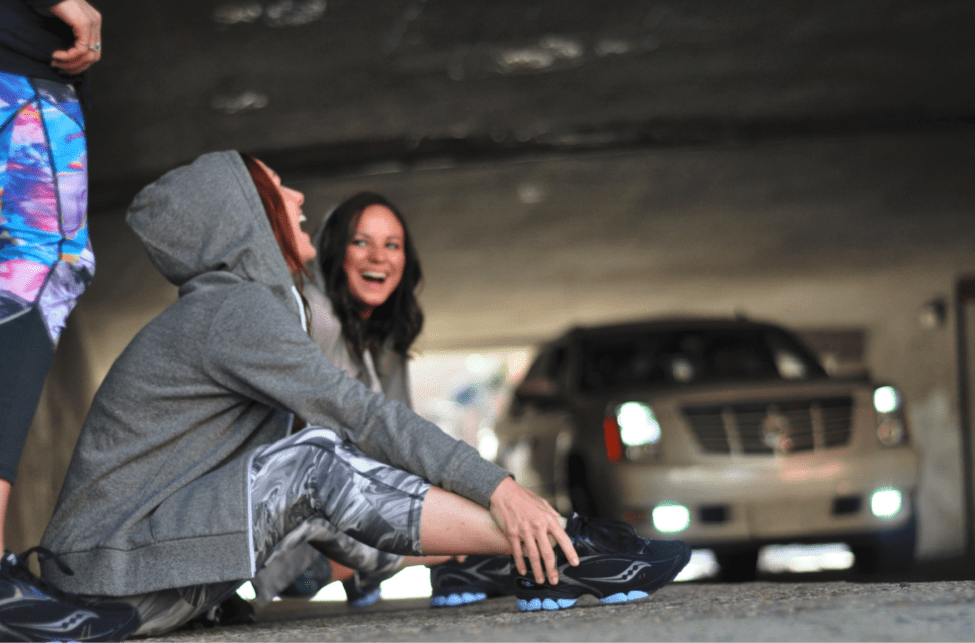 For the grand finale, the girls headed back to the studio and it was time to get sweaty. After re-energizing with a handful (or five!) of trail mix, they lathered their bodies in oil, wet their hair, and intensified their smokey eyes. One by one, they entered the studio, and gave it everything they had left in them for those striking final frames.
Stay tuned for the release of the official photos!
Written by Kathleen O'Neill
Instructors: Mahri, Lauren, Erin, Melody, Allie, Kerry and Nicole
Sneakers: Saucony
Leggings: Sweaty Betty
Sports Bras and Mahri's Leggings: Michi
Unitards:  Lolë
Photographer: Matthew Simpkins
Behind The Scenes Photography: Kathleen O'Neill
https://bodyconceptions.com/wp-content/uploads/LookingatPics.png
648
975
bodyconceptions
http://bodyconceptions.com/wp-content/uploads/bodyconception-logo.png
bodyconceptions
2015-10-26 21:13:52
2015-10-26 21:53:18
Sneak Peek Behind The Scenes of BoCo's Photo Shoot