Note from Mahri~
When Emily Kammeyer comes to class, you notice her. Not just because of her statuesque physique and confidence that emenates from her at all times (it does), but she dresses – and accessorizes – amazingly well! It's no surprise that she specializes in accessories, from blogging (www.accessoriesgal.com) to crafting her own jewelry and headpieces (E.Kammeyer Accessories). Her work is uniquely stunning– I have a necklace of hers that's earned compliments every time I've worn it!
Emily brought so much athleticism and energy to our #StrongForSummer challenge.  I'm especially thrilled that her training with us helped prepare her for the adventurous rock climbing experience she had at Joshua Tree. Read about her experience below — and check out her beautiful work, too!
~Mahri
https://youtu.be/mvGHvNLhYdw
Words from Emily~
What drives you? For me, it's the thrill of a new adventure. I live for trying new things, pushing my limits and feeling the rush of adrenaline. On my recent trip to Palm Springs I decided to spend a day rock climbing in Joshua Tree with my husband. Now, I've rock climbed many times before, but nothing quite like these conditions.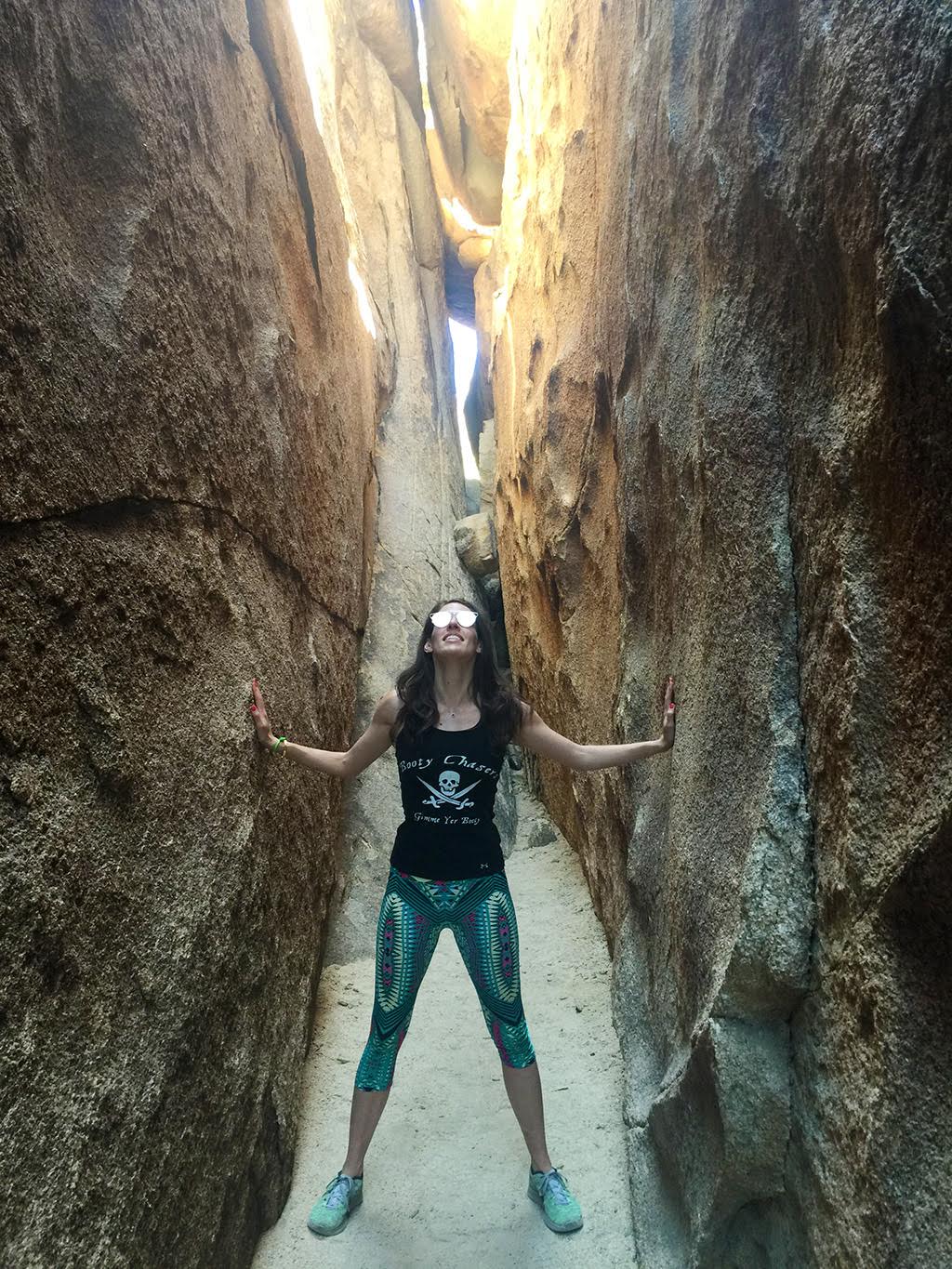 As prep for our trip I decided to try out a new workout called Body Conceptions. BoCo, as many call it, is a workout designed to create a lean and sculpted body like a dancer. What I fell in love with was the complete muscle exhaustion, serious sculpting, and overflowing positivity you find in every class.
There are a few different classes you can take at BoCo, but my favorite is the classic. It was great prep for rock climbing because it mixes cardio and sculpting into one perfect hour long class. The best/worst part is called the seat section. It's 15 minutes of exhausting backside work that leave you feeling like you may never lift your legs again. But let me tell you, it really helped with my rock climbing skills. Your legs and butt are what propel you up the rock, and thanks to that exhausting seat section, I was ready.
Now a bit about our climb. Joshua Tree is composed of granite rock formations. What I learned to love about this, is your rock climbing shoes really stick to a granite surface. Most of the climbing I'd done previously involved leisurely climbs with lots of hand holds. Well, this was a bit different. I came to the shocking realization on these climbs that there weren't many hand holds at all. This is where I learned how to smear, a technique used in slab climbing. Smearing is where you press your shoe into the rock to propel yourself up. Most of the time on these climbs my hands were just flat against the rock and you had to trust your feet to keep you ascending. It was an amazing experience, terrifying and exhilarating experience.
If you're thinking about heading to Joshua Tree for a rock climbing trip, I highly recommend our guide Castle Rock Climbing School. We learned so much on this trip and left with fatigued muscles and smiles on our faces.
Words and (select) photos provided by Emily Kammeyer.
https://bodyconceptions.com/wp-content/uploads/unnamed.jpg
1365
1024
bodyconceptions
http://bodyconceptions.com/wp-content/uploads/bodyconception-logo.png
bodyconceptions
2016-07-02 15:11:57
2016-07-02 15:49:54
How BoCo Preps You For Adventure: The Rock Climbing Edition