From the beginning to the end of our Spring Into Summer Challenge, it has been an honor getting to know Lauren Burbank.  She is an incredibly talented, focused and sweet person who won the challenge in a group that was our largest to date.  (She lost an incredible 9.5 inches, 3.5 inches off her waist alone!) As you can see, it wasn't easy!  But she did an amazing job and became such a great part of the BoCo community in the process.
Learn more about Lauren here, and read all about her life and background as a performer.  We love Lauren and can't wait to keep seeing her in our classes!
~Mahri
**************************************************
Where did you grow up?
I was very lucky to grow up in New Hampshire! It's a small but beautiful state that offers the ocean, gorgeous lakes and mountains and all four seasons. I'm definitely a New England girl at heart ☺
Tell us a little bit about your background as a performer. What is it like to have that kind of life in the city?
I started singing at a very young age, my Mom is a beautiful singer and some of my earliest memories are of us belting it out with recordings of Whitney Houston and Mariah Carey in the living room together. I come from a very musical family, my brother Chris Burbank is an incredibly talented and accomplished trumpet player and we were lucky to have so much music in our day-to-day lives growing up. I fell in love with musicals in 4th grade when I learned about Phantom of the Opera and was hooked! I obtained my Bachelor's Degree in Musical Theatre and moved to New York right after finishing up a season of summer stock.
The life of a performer in New York can be exhausting when you're running from one class to the next class to a meeting to your survival job to who knows what other responsibility BUT when it's good, it's phenomenal. I've had the pleasure of singing with Essential Voices USA and The New York Pops under the direction of Judith Clurman over the past year and was honored to have shared the stage with Kelli O'Hara last December at Carnegie Hall. It was dream come true!
You were such a superstar in our challenge! Why did you decide to do it, and what was your experience like?
Thank you so much! I came to Body Conceptions for the first time in February to Erin's Monday morning class. The class left me sweating buckets and sore in muscles that I pretty much never knew I had, ha! The fact that each class ends with a really fun dance portion was also right up my alley; it's one of my favorite parts of class to this day. Erin's uplifting energy, passion for teaching and willingness to listen struck a chord with me. I shared some of my physical struggles with her and she recommended trying the BoCo Challenge the next time the opportunity came around and I'm so happy I did it!
I decided to do it for my career (to have a more competitive edge physically) but more importantly because I was tired of being upset over certain parts of my body. It is sad to admit that since about high school I have been unhappy physically and I was ready to make a conscious effort to make things different.
My experience overall was life changing. It was so good not to be in it alone by having a community of other women who were also looking to achieve their fitness goals. Attending a class where you actually know the other class members makes for a great sense of camaraderie and having weekly measurements kept me accountable, which made all the difference for me.
There were times when it was extremely difficult, about 2 and a half weeks in it was particularly tough because I wanted to see the results of my hard work right away and I didn't feel like I was seeing any big progress. This is when I would usually give up on a new workout routine. I've given up at this point in the past and the Body Conceptions challenge helped me to break that mold. Even on the days that I didn't push as hard as I could have or eaten as cleanly as I originally intended there was still going to be another measurement session of my body on Monday and there were still going to be my fellow teammates the following morning sweating it out in class. The sense of community in BoCo had a huge effect on my progress. I am closer to attaining my fitness goals now than I ever have been!
Have you noticed any changes in the way you think about fitness after the challenge? And how has it affected your approach to your career?
Absolutely. I came into the challenge trying to do something for my body for my career and I'm leaving it with an entirely new way of thinking. Instead of only wanting a better looking body for casting directors to see I'm much more interested in being a stronger person for myself and that has been a huge shift. I find that on days that I don't work out I feel sluggish. I really crave getting a morning sweat on before I attack my day.
"If it doesn't challenge you, it doesn't change you," was something I heard from an instructor and it stuck with me. When you push yourself to go beyond what you think you can do there is an incredible sense of accomplishment and confidence you gain that I hadn't felt before the challenge and it is addictive!
"Why isn't anyone smiling? You guys, it's just exercise!" This was another great idea from an instructor that made a shift in my thought process about fitness. Working out is a gift, not a chore. It is your opportunity to check all the other crap you have going on in your life at the door and focus on your incredible body. It is also so important to find a workout that you love and inspires you! BoCo is hands down the most fun workout I have ever done and it keeps me coming back to challenge myself. I can't wait to see how the whole process will effect my audition season which is about a month away from now!
If you could only pick 3 things to tell them, what would you say to young aspiring performers moving to the city for the first time?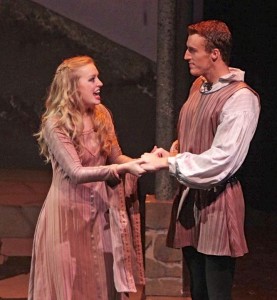 1- Make friends and a strong sense of community for yourself! When I first moved to the city I was so gung-ho about auditioning and doing all the things I was "supposed" to do right after undergrad that I didn't take care of myself as well emotionally which leaked into my career process. It is going to be tough but if you have a group of positive people with similar goals that you surround yourself with it will make a HUGE difference.
2- "Don't forget your art" is something one of my professors in college, Dr. Santore used to tell us before we would be off for the summer. He didn't want us to become so distracted in our "time off" that we didn't prioritize our singing or dancing or playing of an instrument or acting. The city can sweep you up in distractions. Don't let your survival job or your other responsibilities stop you from investing in yourself and your art. Yes, auditioning is important but don't let it be the only place you practice your art. Find a positive creative outlet that allows you to remember why you do what you do in the first place.
3- Get familiar fast and take advantage of this place! Use apps on your smartphone to get cheap Broadway tickets and see everything you can! Nothing is more inspiring than watching people do exactly what it is you want to do. NYC offers so much art, go see as much of it as you can and stay inspired!
Ok, time for fun! What is something funny or unusual about you that most people don't know?
I really enjoy making hideous faces. Sometimes I put grapes underneath my upper lip and attempt to sing a la Cindy Loo Who, "Fah-who for-aze, Dah who dor-aze, welcome Christmas, Christmas Day!" Basically any time there are grapes around, it happens. My Dad never takes himself too seriously and is one of the funniest men I know and always embraces silliness, it was such an awesome way to grow up.
What are your favorite things to do in the city?
I love going to see live performances! I try to take advantage of having Broadway and Off-Broadway theaters, the Metropolitan Opera, City Center and many other performance venues in my city as often as I possibly can. I also love trying out new restaurants with my boyfriend and watching him perform with his band, Della Grove. I am so blessed to have his support, he really understands what it is like to be a performer here and is an all-around crazy talented person and the kindest man. There is so much to experience in NYC! Getting my nails done is another favorite, which sounds silly but I absolutely love it when I'm not in a show and I can take advantage of being able to paint my nails bright colors again, ha!
https://bodyconceptions.com/wp-content/uploads/Lauren-headshot.jpg
1198
1800
bodyconceptions
http://bodyconceptions.com/wp-content/uploads/bodyconception-logo.png
bodyconceptions
2015-08-01 17:02:05
2015-08-01 17:07:12
You Have to Meet Our Challenge Winner: Lauren Burbank