Melody Davi is an extraordinary person and fitness trainer. She manages to push you harder than you can imagine while remaining one of the nicest, most approachable people around. She is a certified personal and group fitness trainer, a pre- and postnatal exercise specialist — and a new mom!! We at Body Conceptions are so lucky to have her, and we also marvel at her ability to juggle motherhood and fitness with so much grace and dedication.
I recently sat down again with Melody and asked her some questions about herself and her recent pregnancy. On Saturday, May 2nd, she will be introducing our first test class for men (and women can come, too!) – called BroCo. Come try this class and meet Melody if you don't know her yet. You will be blown away!!
~Mahri
************************
Can you tell us a little bit about your fitness background? And you were a performer too, right?  Yes, my interest for movement stems from a background in performing, particularly musical theatre (which is what brought me from the west coast to east). When I began working professionally, I realized that both my cardiovascular and muscular strength needed to increase in order to help my stamina and consistency on stage. Along the way, I discovered how that newfound power could affect my overall health and well-being and fell in love with that sensation. For over 5 years now, it's been my ambition to bring that same discovery to the clients I work with!
You recently had a baby! What was it like teaching BoCo classes while you were pregnant? Also, was there anything about exercising during your pregnancy that surprised you?  Honestly, exercising during pregnancy felt amazing! I obviously become much more aware of my body and its specific needs, but found most of the usual negative symptoms associated with being pregnant didn't affect me. (There still may have been a moment or two of nausea!) My energy levels, however, (especially during the second trimester) were even greater than beforehand, and I found dance cardio in particular to be the most comfortable way to sweat and tone. Like with exercise at any phase in life, it was true that the days I took off were the days I felt tired and weighed down, while the more I could move, the better I felt both mind and body!
What was it like getting back to training clients and teaching classes afterwards? How did you get back into shape so quickly?  Getting back to training clients at first was the only reason I would leave the house; it's so tough to say "goodbye" to the little one! I am in a fortunate position in that a great deal of my clients, both private and in class, are also mothers (or planning to be!) Having that relatability where we can discuss how pregnancy has change our bodies AND our lives makes going to work more like a day with friends (where we seriously sweat!)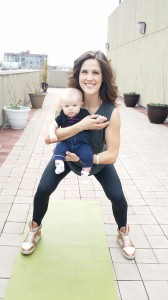 The fact that I was able to exercise throughout my pregnancy (I was doing dance cardio right up until the day I went into labor!) helped make bouncing back MUCH easier! I already had a baseline of fitness to start from on Day 1 Post-natal, and the biggest challenge was telling myself to take it easy. (I may have brought resistance bands to the hospital…oops!) Starting from my core and working out from there, I've been focusing on first strengthening what pregnancy weakened, and then maintaining everything else. Plus, carrying around an ever-growing infant makes for a stellar arm workout!
You are known as providing an amazing workout for men (in addition to women of course). What can we expect from your BroCo test class coming up on Saturday, May 2nd?Do you have to be a guy to do it?  Our new class addition, lovingly dubbed "BroCo" is my no means a men's only class. Basically, it is designed to follow the same Body Conceptions format of strength and cardio intervals, with the intensity bumped up a notch. Also, no dance cardio! Instead, we'll focus on athleticism: calisthenics, plyometrics, and mostly body weight conditioning. Those dreaded sliders MAY be making an appearance as well…
Ok – totally random final question. What's one thing most people would be surprised to learn about you?  Well, it's maybe not THAT surprising, but I am a bit of a tattoo lover. (5 so far!) My latest (and largest), a Magpie bird in honor of little Maggie, is by far my favorite!
https://bodyconceptions.com/wp-content/uploads/Melody-with-baby-3.jpg
2560
1440
bodyconceptions
http://bodyconceptions.com/wp-content/uploads/bodyconception-logo.png
bodyconceptions
2015-04-28 18:05:31
2015-04-28 18:06:10
Melody: An Interview with Our Resident "Bro" Whisperer and Mommy Extraordinaire