Photos by Kathleen O'Neill
Brittany teaches her classes with the biggest smile — and you can't help but become carried along by her energy and enthusiasm!
We struck gold again with an instructor like Brittany Hillyer. A sweet and modest person, she barely mentions her impressive background as a former New York City Ballet dancer (unless you ask!). But you can see her pedigree in the care she takes with her classes and the love she brings to movement. You will enjoy finding out more about her life and background below — and be sure to check out her next 7am Wednesday Power 45 class!
~ Mahri
*****************************************************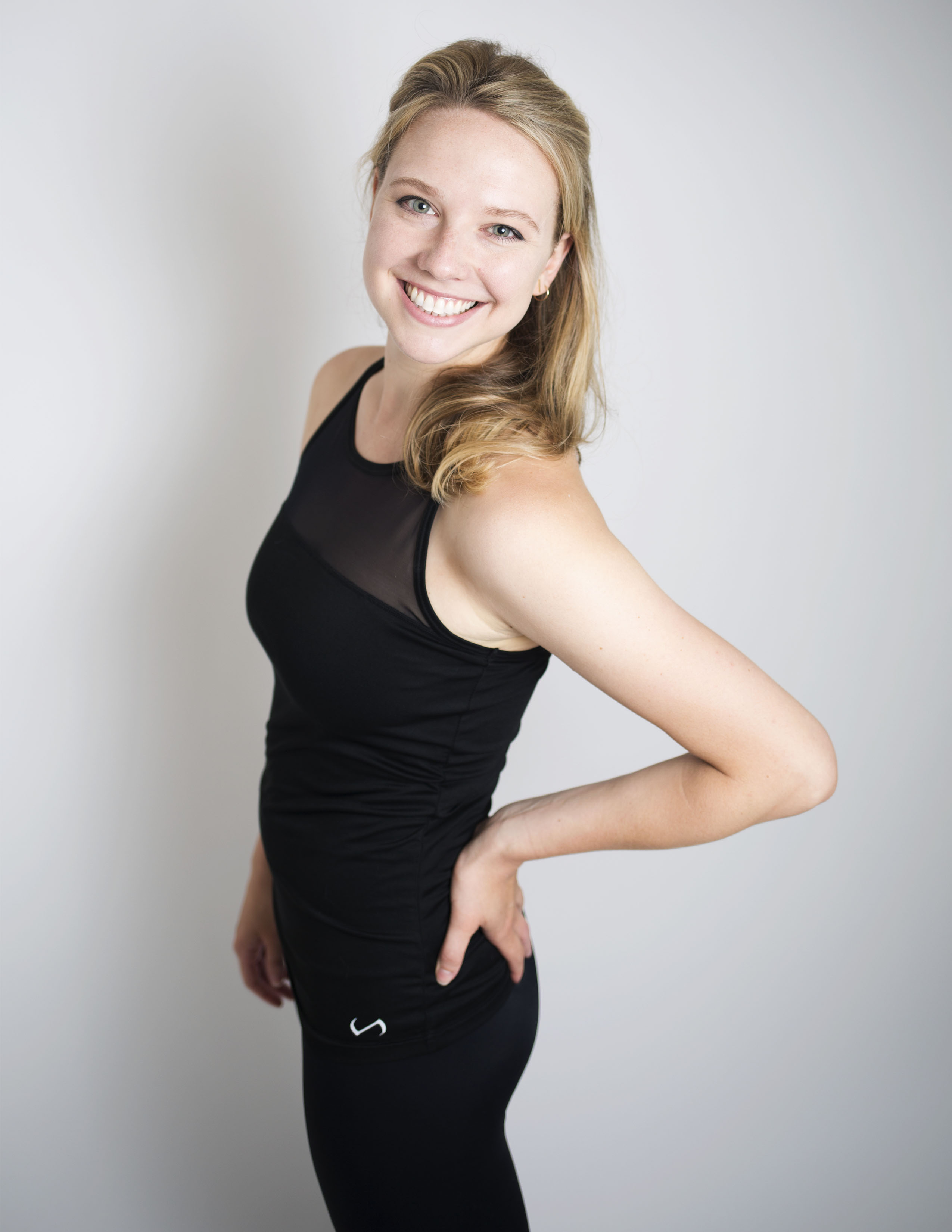 Full name: Brittany Alana Hillyer
Where did you grow up? Monroe, GA
What's your biggest passion? I would say performing, whether it's on a stage, in a studio or teaching a class, that amazing adrenaline rush is still the same.
Tell me about your career. Have you changed directions? If so, why? I have! I moved here at 16 to attend the School of American Ballet and went on to perform with the New York City Ballet for four years. That was my first career and a lifelong goal. I was extremely one track minded which was great! I realized as you have more experiences with age it's tough to suppress curiosity for other interests. I decided to transition into another career and enrolled full time at Hunter College to study film and media.
Fitness was a natural progression for me. I can still express myself the way I know best, through dance and music while also finishing my bachelors degree.
What do you wish you knew when you were younger? Have more fun and take a step outside your bubble every once in a while! It's not going to kill you
What's your fitness fashion style? I'm really in to the high waisted leggings and crop tops!
What's the best piece of health/wellness/dance advice you've ever gotten? 90% of the things you worry about never happen. Drink water!
What's your guiltiest pleasure? Ridiculous amounts of frozen yogurt and or Levain cookies.
What quality do you really cherish about yourself? I would say my positivity, I truly feel there is a positive side and something to learn from everything that happens.
What's something most people don't know about you (that's maybe a little funny or weird)? I can move my ears up and down on their own.
Anything else about you that I missed? Nope! Just come take my class at 7am every Wednesday!! It's early, but I promise you'll have a better day!
https://bodyconceptions.com/wp-content/uploads/A41A5593-scaled.jpg
2560
1978
bodyconceptions
http://bodyconceptions.com/wp-content/uploads/bodyconception-logo.png
bodyconceptions
2016-08-16 20:34:04
2018-04-16 01:13:03
Our new trainer, Brittany, is a beautiful ballerina!