When we were looking for great instructors based in NJ, I never thought we would find someone as skilled, experienced, and PERFECT for BoCo as Kerry Clarke.  Having recently moved from NYC to NJ, Kerry has an extensive background in fitness in addition to her previous life as a dancer. And her workouts are amazing.  Dream come true!
Even more importantly, Kerry is a warm, cool person with tons of charisma. We love her sense of humor, and she also has such real and grounded energy.  We have asked her to talk a little bit about herself here, and you will learn some fun tidbits.  Thanks, Kerry, for a great interview – and welcome to Body Conceptions!
~Mahri
***************************************************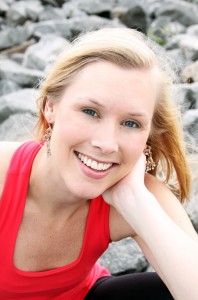 Full Name:  Kerry Joyce Clarke
Where were you born, and where did you grow up?  Edison, New Jersey
What's your biggest passion?  Probably traveling.  I feel most alive when I am out of my comfort zone and seeing/experiencing something new.  There's nothing like a good trip to put your life into perspective and see things a bit clearer.
Tell me about your career.  Have you changed direction?  If so, why?   I was a dance major in college, and had intended to pursue dance for a living.  Life got in the way, and soon after graduation I sold my soul to corporate America.  After a few years, I really craved more creativity and movement in my life and I started teaching barre in my spare time as well as logging hours for my 200 RYT training.  I followed my heart, and with the support of my husband, started teaching fitness for a living.  It has been a really rewarding experience…it energizes me, keeps me in shape, and perhaps most important, has introduced me to some of my best friends.  It connected me with like-minded, strong people who cherish their health and love inspiring others to be the best versions of themselves.
What do you wish you knew when you were younger?  How precious free time and sleep is.  Now that I have NONE with two toddlers ruling my household, I miss those moments of downtime where it was just me and my thoughts.  Many nights when I'm tucking my kids into bed, I wish so badly that the roles were reversed and someone were tucking me in!
What's your fitness fashion style?  To be honest, my fitness style is definitely a bit more bold and daring than my day to day style.  It also changes with the workout.  I wear totally different apparel for dance cardio, versus spinning or barre.  For a tough BoCo class, I tend to choose a layered look on top….usually a strappy and bright sports bra as the base…and baggier capris.
What's the best piece of health/wellness/dance advice you've ever gotten?  To "listen to your body!'  I know how many classes I can teach without crashing.  I know my breaking point.  I know when I need a great massage, a day to sleep in, more water in my system, etc.  I try to avoid burning out at all costs.  It's important to stay healthy and stay energized.
What's something most people don't know about you (that's maybe a little funny or weird)?  I have two fears….#1. the dentist and #2. flying (yes, which is challenging when you love to travel.  Picture the plane scene from bridesmaids)
What's your guiltiest pleasure?  These days…..veggie straws.  I buy them "for my kids" and eat the bag!  Doh!
What quality do you really cherish about yourself?  I consider myself to be a pretty good "connector."  I'm most definitely a people person and I really pride myself on keeping up my relationships.
Anything else about you that I missed?  I am a total unabashed snob when it comes to both coffee and chocolate.
Photo by Kathleen O'Neill
https://bodyconceptions.com/wp-content/uploads/KerryHeadshot1-scaled.jpg
2560
1696
bodyconceptions
http://bodyconceptions.com/wp-content/uploads/bodyconception-logo.png
bodyconceptions
2015-11-04 23:32:31
2015-11-04 23:54:27
Our New Jersey Superstar, Kerry Clarke!